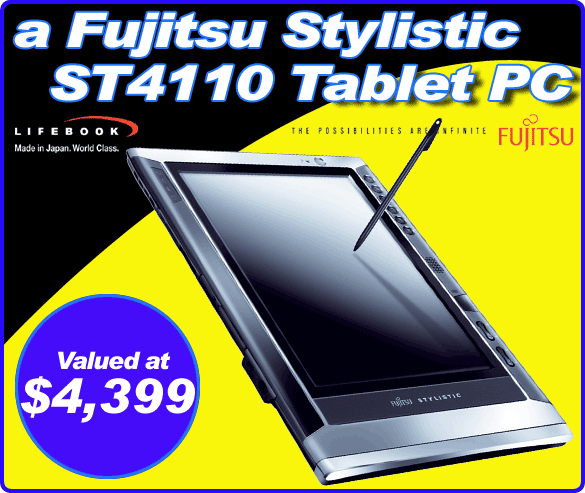 Save over $38 by subscribing today.
Get 12 issues of Australia's biggest technology magazine delivered to
your door for only $79.
Designed for truly mobile professionals, the Stylistic ST4110 is a slim and lightweight Tablet PC with superb wireless connectivity. Take handwritten notes, prepare documents, check emails or prepare drafts by hand anywhere, anytime. The Stylistic extends the Fujitsu PC mobile computing range with uncompromising performance and flexibility.
Each month, APC gives you:
Features on the latest in technology and the way it shapes your life
Expert reviews and shoot-outs of the very latest hardware, software and accessories
Workshop articles for hands-on power users in Windows, Linux, Mac, handhelds, programming, applications and more!
Reports on the technologies that impact and can improve your business
Two CDs packed with the best software from the Net, plus exlusive APC offerings
And as a subscriber, you'll get your copy of APC before it hits the streets!
Subscribe online at Magshop
Call 13 61 16
APC JULY 2003 SUBSCRIPTIONS PROMOTION
TERMS AND CONDITIONS OF ENTRY
1. Information on how to enter and prizes forms part of these conditions of entry.2. Entry is open to all residents of Australia who subscribe or renew their subscription to APC magazine between 18/06/03 and 22/07/03. Entry is subject to the correct use of a valid credit card or, if payment is made by cheque, the cheque must be cleared for payment. Subscriptions are to be sent by mail to APC, Reply Paid 3357, Sydney 2001; or made by telephone on freecall 13 61 16. Employees of the Promoter and their immediate families and agencies associated with this promotion are ineligible to enter.3. Promotional period commences 18/06/03 and closes 23:59 EST on 22/07/03. The draw will take place at 11 am at APC, Level 9, Stockland House, 175-183 Castlereagh Street, Sydney, NSW 2000 on 25/07/03. The Winner will be notified by mail and their name will be published in the Public Notices section of The Australian on 31/07/03. Judges' decision is final and no correspondence will be entered into.4. The first valid entry drawn will win a Fujitsu Stylistic ST4110 Tablet PC, valued $4,399. Prize is not transferable or exchangeable and cannot be taken as cash. The Promoter is neither responsible nor liable for any change in the value of the prize occurring between publishing date and the date the prize is claimed.5. The Promoter may conduct such further draws at the same place as the original draw as are necessary on 14/11/03 in order to distribute any prizes unclaimed by that date subject however to any written directions given under Reg 37 of the Lottery and Gaming Regulations 1993 (SA).6. The Promoter shall not be liable for any loss or damage whatsoever which is suffered (including but not limited to indirect or consequential loss) or for any personal injury suffered or sustained in connection with the prize except for any liability which cannot be excluded by law.7. The Promoter accepts no responsibility for late, lost or misdirected mail. The Promoter is not responsible for any prizes damaged in transit.8. All entries become the property of the Promoter. The collection, use and disclosure of personal information provided in connection with this competition is governed by the Privacy Notice (see Contents Page for location in this issue)9. The Promoter is ACP Publishing Pty Ltd (ABN 18 053 273 546) of 54 - 58 Park Street, Sydney, NSW 1028.Authorised under NSW Permit No TPL03/04417 SA: T03/1740 ACT: TP03/1814 NT: NT03/159